Report on Lady Godiva 950th Anniversary Celebration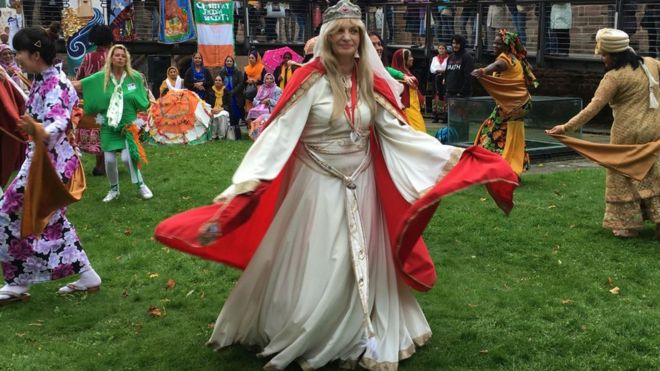 At the stroke of three o' clock the Godiva Sisters and Pru Porretta dressed as Lady Goodyver (now written Godiva) proudly processed from Broadgate. Pru was clothed with the beautiful handmade cloak of 950 flowers, created by children and communities for Godiva leading up to our special day.
All 20 Godiva Sisters were there representing their different faiths and communities in their traditional gowns, African drumming, giant specially made banners, decorated umbrellas and several hundred people.
Even though the Godiva Clock puppets didn't come out, the enjoyment wasn't spoilt, and indeed was enhanced by the community spirit. Everyone watched the colourful spectacle and the programme unfolded in Priory Gardens with songs, drama and dances becoming a feast for the eyes and tasting foods of many different cultures brought by the Godiva Sisters
The Godiva Trust were pleased to have our Deputy Lord Mayor – Councillor John Blundell, and Ursula Russell MBE Deputy Lieutenant of the West Midlands plus several city councillors in attendance this year. They were also pleased to have the continuing support of the Master of the Freeman's Guild – Tony Archer, the President of Mercia Lions -Ravinder Singh Sandhu and the support of Coventry Rotary Club – John Hartley. Thanks also to the Canon for Reconciliation at Coventry Cathedral – Reverend Dr Sarah Hills, who gave such a lovely blessing on us all.
There was a big crowd of Coventry people and a good celebratory atmosphere.  Again the Trust thanks local schools,especially St Elizabeth's,St Osburg's, St Mary and St Bendedicts and the many communities for taking part – their interest and energy makes it all worthwhile.
The Trust hopes that the people of Coventry will want to be involved with us again next year.  Please put the date in your diary:  Heritage Open Days Friday 13th September 2018.
Photographs and a report were published on the BBC website: http://www.bbc.co.uk/news/uk-england-coventry-warwickshire-41219382
Also fantastic photographs and video clips from our dear friends and supporters at Lens Art, Janet and Kevin Vaughan please see link  http://bit.ly/2xgqKEH